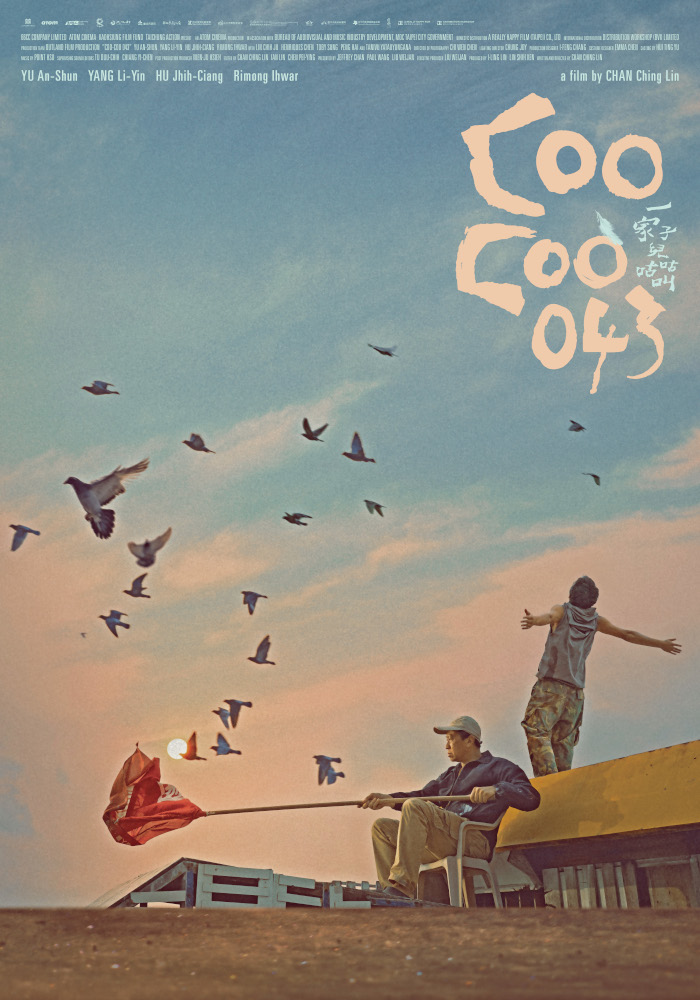 华夏风情画 CHINESE PANORAMA
一家子儿咕咕叫 Coo-Coo 043
台湾 Taiwan|2022 | 135 mins | M18 (粗俗语言及性暴力 Coarse Language and Sexual Violence)
福建话、华语 Hokkien, Mandarin
中英字幕 English & Chinese subtitles
导演 Director: 詹京霖 CHAN Ching-lin
东南亚首映 Southeast Asian Premiere
主演 Cast:

游安顺、杨丽音、胡智强、李梦苡桦
YU An-Shun, YANG Li-yin, HU Jhih-Ciang, Rimong IHWAR
简介 Synopsis:

七年前比赛没有返回的赛鸽 043现在飞回来了。"七年"是法律上失踪者声请死亡宣告的期限。是否为失踪多年的儿子小实声请死亡,阿钦师与阿敏夫妻不同调,也使得女儿梦露有了波动,想离家寻求自由。
另一方面,小虎开始学习养鸽事务,阿钦师把儿女失败的驯化加诸其上,两人形同父子。阿敏却偷偷去声请小实的死亡宣告,家庭震荡。同时,小虎也默默展开因网鸽而起却注定失败的复仇行动。阴阳交会之际,鸽叫声大作,阿钦师仿佛等到了心之所系的归来。
The sound of wings reverberates through the air. In the murky half-light, race pigeon 043 has finally returned after seven years. 043 wasn't the only one that went missing seven years ago; the other was Pigeon Master Ching's son, Shih, whose disappearance remains the irreparable wound in Ching's heart.
The family's barely-maintained peace is shattered by 043's return, as Ching's daughter, Lulu, brings a beaten-up boy named Tig back home. Ching begins to see shades of Shih in Tig. After all, breeding pigeons with his son was his biggest wish. But wild pigeons can't change their ways. Lulu leaves abruptly and never comes back. Ching's wife, Ming, stealthily begins legal proceedings to declare Shih deceased. Grandpa's death is the last straw that breaks this family's back. In the aftershock of the storm, what course should the wounded follow?
奖项 Awards:
第59届金马奖最佳剧情片、最佳新演员、国际影评人费比西奖
The 59th Golden Horse Awards for Best Narrative Feature, Best New Performer, FIPRESCI Prize
第4届台湾影评人协会最佳男演员奖
The 4th Taiwan Film Critics Society Best Actor Award
*映后交流(线上)。Post-screening Q&A (online).