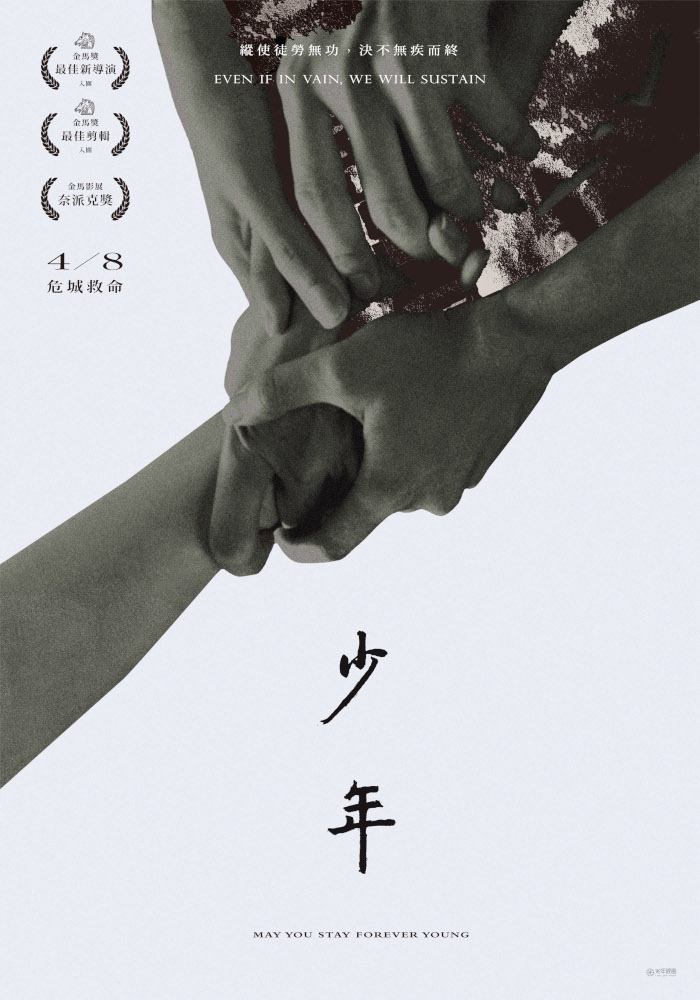 华夏风情画 CHINESE PANORAMA
*少年
May You Stay Forever Young
香港. 任侠、林森
Hong Kong. Rex REN, LAM Sam
Hong Kong|2021 | Drama|86 mins | M18 (内容只宜十八岁及以上及些许粗俗语言 Mature Content and Some Coarse Language)
Languages: 广东话,Cantonese
Subtitles: 中英文字幕 English & Chinese subtitles
Director: 任侠、林森 Rex REN, LAM Sam
Premiere Status: 东南亚首映 Southeast Asian Premiere
主演 Cast:
孙君陶、余子颖、李佩怡、曾睿彤、唐嘉辉、彭佩岚、何炜华、孙澄、麦颖森
SUEN Kwan-to, YU Tsz-wing, Li Pui-yi, Maya TSANG Yui-tung, Calvin TONG Ka-fai, Ivy PANG, Ray Ho Wai-wa, SUEN Ching, Sammi MAK Wing-sum
简介 Synopsis:
反送中战役期间,曾被捕的18岁少女YY在社群上留言欲自杀,发现信息的少年阿南召集抗争伙伴们与社工大姊,在她居住的葵涌区奔波搜索,务求在酿成悲剧之前找到人,挽救一命;在对岸港岛,运动烽烟在街头四起,少年面临着心灵煎熬,到底是抗争优先还是救人要紧?大量起用新鲜面孔,叙事流畅危机真切,少年少女的投入让戏假亦真,叫人心碎又心疼。
In June 2019, YY is one of many young people who joins the Anti-Extradition Law protests. She announces that she will commit suicide as a radical method to make the Hong Kong government respond to their demands. A group of fellow protestors must race against time to find her before it is too late. After an emotionally exhausting hunt, she is found at the top of a building preparing to jump off…
奖项 Awards:
2021年金马影展亚洲电影奈派克奖
Golden Horse Film Festival Netpac Award 2021
入围第58届金马奖最佳新导演、最佳剪辑
Nominated for Best New Director, Best Film Editing at the 58th Golden Horse Awards
*Post Screening Question Answer Session
与影人映后交流。
There will be a post screening Q&A session with filmmaker/s.