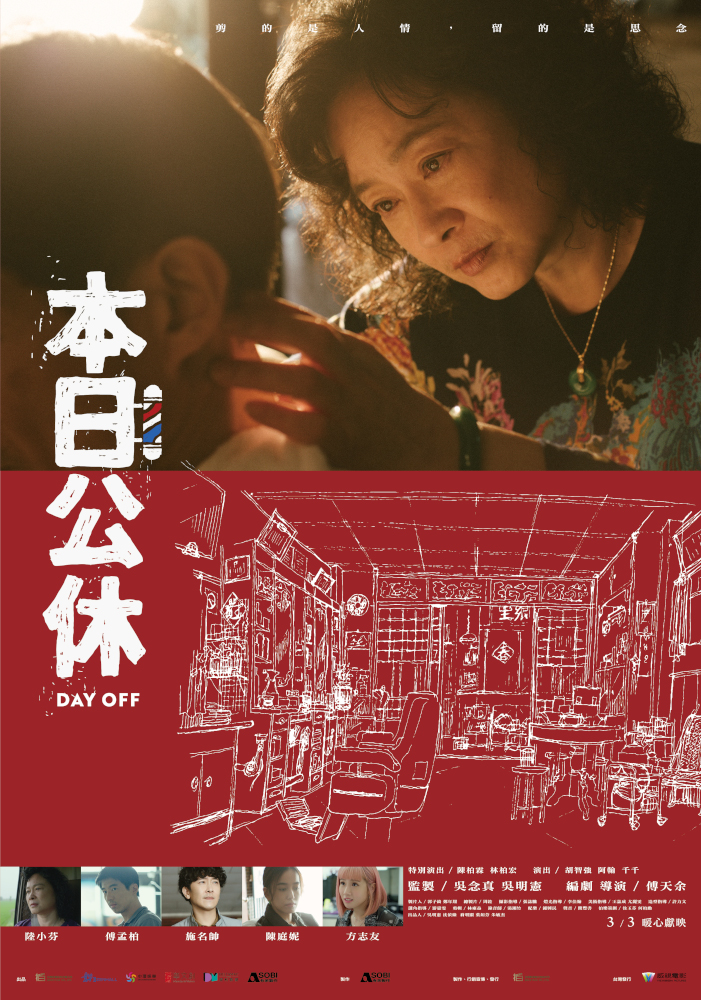 华夏风情画 CHINESE PANORAMA
本日公休 Day Off
台湾 Taiwan|2023 | 100 mins | PG13 (些许粗俗语言 Some Coarse Language)
华语、福建话 Mandarin, Hokkien
中英字幕 English & Chinese subtitles
导演 Director: 傅天余 FU Tien-Yu
东南亚首映 Southeast Asian Premiere
主演 Cast:

陆小芬、傅孟柏、陈庭妮、施名帅、方志友
LU Xiao-fen, FU Meng-po, Annie CHEN, SHIH Ming Shuai, Beatrice FANG
简介 Synopsis:

阿蕊开了四十年的男士家庭理发,小小的家庭理发店收藏了各种生老病死、聚散离合。面对生活的烦扰,阿蕊总是以她台湾欧巴桑的精神,毫不认输地面对人生。时间一天天过去,她的客人老了。
有天阿蕊接到一通电话,搬到远方的老客人生病无法出门剪头发,拜託阿蕊到府服务。面对各种反对,阿蕊想起师傅教她"这一行要服务客人到底"。挂上"本日公休"的牌子,她要出发上路,去做一件所有人都认为不值得的事。
For forty years A-Rui has been running a barbershop, a small place where she has seen happiness and sorrow, ebb and flow. Faced with all the troubles in her life, A-Rui fully commits to her work and defeat is never an option for her. One day, A-Rui receives a phone call from the family of an old regular client who moved far away a long time ago.
The family asks A-Rui if she would be willing to travel to give the bedridden old man a haircut. Reminded of what her master taught her, "Always provide your best service," A-Rui decides to hang up the "Day Off" sign and closes her shop for one day. She drives her beat-up old car and embarks on a long journey to do something others think is not worthwhile.
奖项 Awards:
2023年大阪亚洲电影节药师真珠奖最佳演员、观众奖
Osaka Asian Film Festival 2023 Yakushi Pearl Award Best Actor, Audience Award