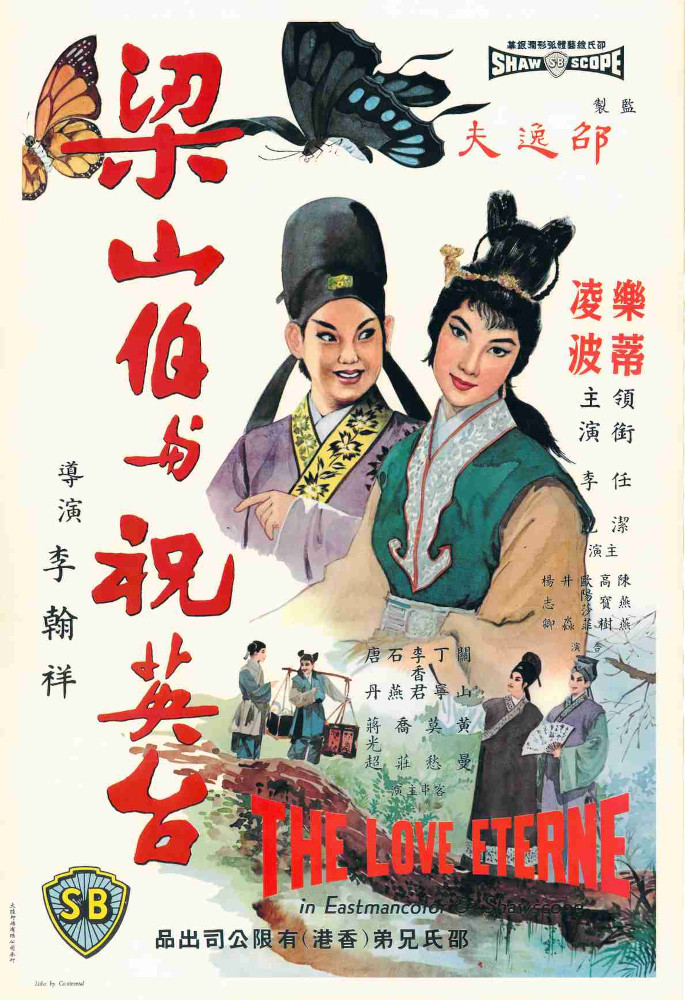 经典修复版: 李翰祥特辑 Restored Classics: Tribute to Li Han-Hsiang
梁山伯与祝英台 The Love Eterne
香港 Hong Kong|1963 | 122 mins | PG
华语 Mandarin
中英字幕 English & Chinese subtitles
导演 Director: 李翰祥 LI Han-Hsiang
主演 Cast:
乐蒂、凌波、任洁、李昆
Betty LOH Ti, Ivy LING Po, JEN Chieh, LI Kun
简介 Synopsis:
本片被誉为李翰祥最经典的黄梅调电影,并在金马奖夺六个奖项。凌波饰梁山伯,乐蒂饰祝英台,属梁祝二角最佳之选。故事描述,祝英台女扮男装去杭州读书,与同窗梁山伯结为兄弟,继而恋爱。山伯求亲时,惊闻英台已被许配给太守之子马文才。山伯和英台楼台相会后,一病不起;英台忽接山伯噩耗,出嫁前往山伯墓前祭吊,并跳进墓里殉情,梁祝情爱化蝶。
Romeo and Juliet meet Yentl in this sumptuous musical adaptation of one of China's most famous folk tales. Beautiful Chu Ying-tai wanted to go to school, something unheard of for a girl at that time. She disguised herself in a young man's attire. En-route to attend school, she met Liang Shan-po, another school-bound youth of great promise.
Shan-po never did suspect that he had a beautiful lady as his daily companion. Upon returning home, Ying-tai's father told her she was to marry Ma, the son of a court official. Meanwhile, Shan-po learned in school of her secret. He realised how deeply Ying-tai loved him. He hurried to her manor trying to ask for her hand but it was too late. Shan-po pined away at home……
奖项 Awards:
第2届金马奖最佳剧情片、最佳导演、最佳女主角、最佳剪辑、最佳音乐、最佳演员特别奖
The 2nd Golden Horse Awards for Best Feature Film, Best Director, Best Leading Actress, Best Film Editing, Best Score, Best Acting Special Prize
2005年香港电影金像奖最佳华语电影100部(为纪念华语电影诞生100年)
2005 Hong Kong Film Awards The Best 100 Chinese Motion Pictures (to commemorate 100 years of Chinese films)