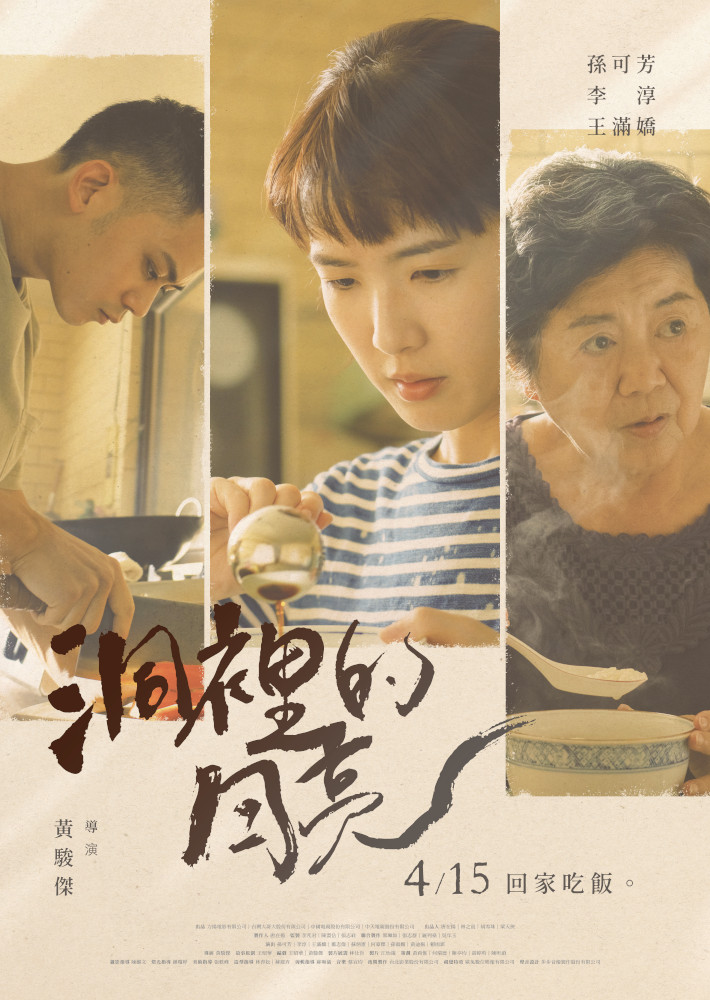 华夏风情画 CHINESE PANORAMA
洞里的月亮 The Reunion
台湾 Taiwan|2022 | 90 mins | PG13 (些许粗俗语言 Some Coarse Language)
华语、福建话 Mandarin, Hokkien
中英字幕 English & Chinese subtitles
导演 Director: 黄骏杰 HUANG Jun-Jie
世界首映 World Premiere
主演 Cast:

孙可芳、李淳
Ke Fang SUN, Mason LEE
简介 Synopsis:

味蕾的记忆,是成长的记忆,是生命的记忆,是过往回忆的记忆,是家族的记忆。闷热的早晨,台北市区内一栋老公寓顶层,即将开幕的私厨厨房中,女主人李心悦不知所踪,放下了将开幕的店面及私厨男主人——她的男友季蔚然,就这么悄悄消失。
台南老城区中,李家老宅神明桌上的屋顶不敌强烈阵风,咯噔一声一片瓦被掀起吹走,登时出现了一个洞。强风顺着这个洞吹进了李家,掀起了一场家庭风暴。为了维修老屋,散居各处的李家儿子们一同回到老家,七嘴八舌的对房子的维修展开了讨论,隐藏在兄弟间的矛盾就这么被掀开。
The memories on the taste buds, are those of growing up, of life, of past recollection, of families. In a sultry morning, on the top floor of an old apartment building in downtown Taipei, where a private kitchen is about to open, the female owner Li Xin-Yue has gone missing, abandoning the male owner of the private kitchen, her boyfriend Ji Wei-Ran, along with the unorganized storefront.
In the old town area of Tainan, the roof of the old family Li mansion gets hit by a gusty wind, blowing away a piece of tile and leaving a hole on the rooftop. The wind follows through the hole, blowing into the Li's, launching an upcoming family storm. The three sons of the Li who live separately have all returned. As they debate about the repair work, the conflicts hidden among their relationships start to surface.
奖项 Awards:
入围第57届电视金钟奖戏剧类节目摄影奖、灯光奖
Nominated for Best Cinematography, Best Lighting, for a Drama Series at the 57th Golden Bell Awards