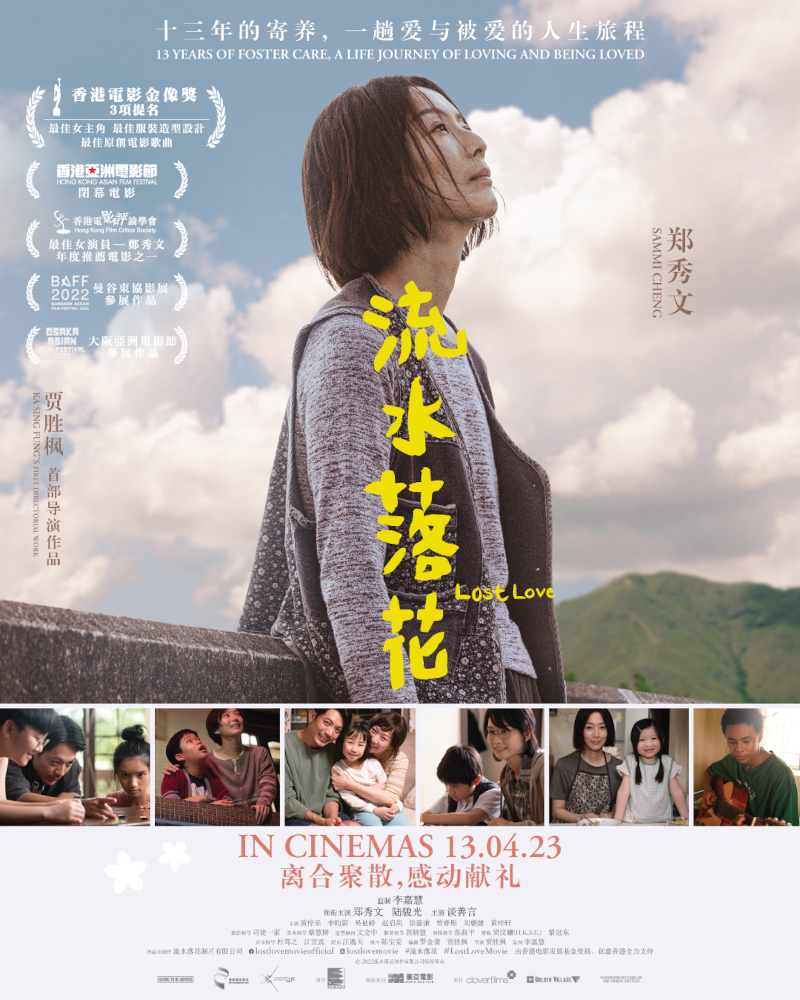 华夏风情画 CHINESE PANORAMA
流水落花 Lost Love
香港 Hong Kong|2022 | 95 mins | PG
广东话 Cantonese
中英字幕 English & Chinese subtitles
导演 Director: 贾胜枫 KA Sing Fung
主演 Cast:
郑秀文、 陆骏光、谈善言
Sammi CHENG, Alan LUK, Hedwig TAM
简介 Synopsis:
陈天美和何彬申请成为寄养家庭,夫妇俩很用心,迎来各有问题的小孩。天美在小孩身上看到了父母、同学、社会造成的伤痕,她用尽方法让众人重拾希望,成为大家依靠、好好相处的家人。别人都赞天美伟大,但她知道,是这班孩子拯救了她。因为一直无法磨灭丧儿伤痛的天美,直到遇上寄养孩子后,她早已掏空了的心才有所寄托,重拾做母亲的感觉;本来有缺陷之家,也暂时得到填补。十三年间,天美醉心于照顾小孩。正当夫妇与快将升上大学的寄养孩子仲恒过着简单快乐的时光,却迎来一场突变。
Chan Tin Mei and Ho Bun's son passed away abruptly at three years old due to a congenital heart disease. Still in pain over the loss, Mei resists having another child. One day, Mei finds out that they can become a foster family. Her desolate heart finds sustenance from possibly regaining the feeling of being a mother. Bun's extramarital affair leads to a big fight between the couple, but it also reveals the feelings concealed in Bun's heart. Although Mei is praised for her dedication to her foster children, she knows she has been saved by the children instead. When the couple finally settles into a simple and happy life with their foster child, Mei suffers a heart attack.
奖项 Awards:
第29届香港电影评论学会大奖最佳女演员、推荐电影
2022 Hong Kong Film Critics Society Awards for Best Actress, Film of Merit
香港电影发展基金第6届首部剧情电影计划:专业组得奖计划
The 6th First Feature Film Initiative: Winner of Hong Kong Film Development Fund for Professional Group