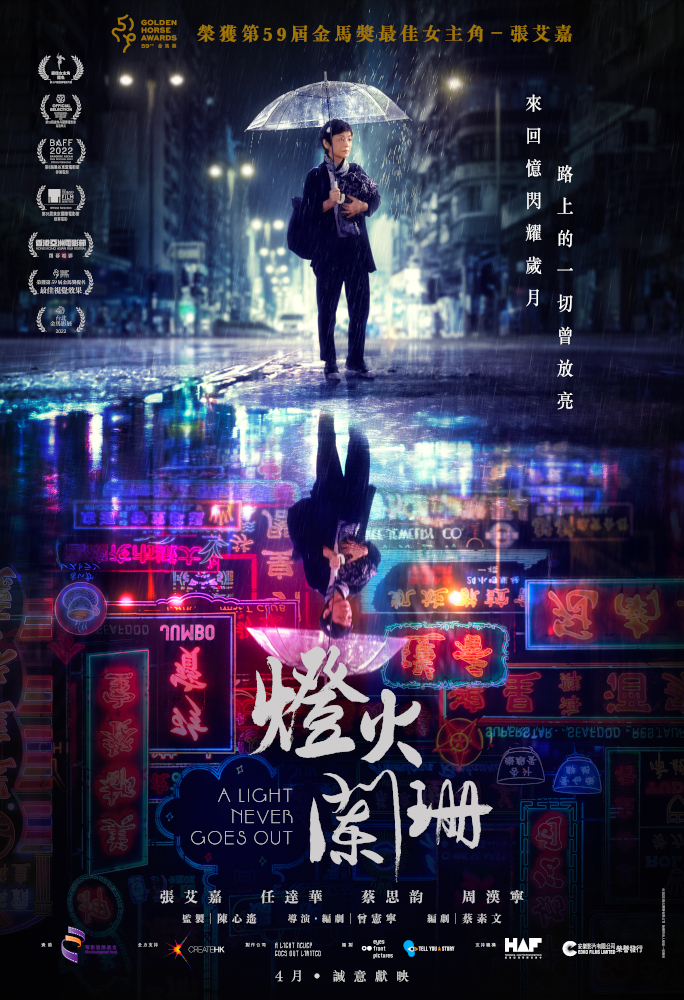 华夏风情画 CHINESE PANORAMA
灯火阑珊 A Light Never Goes Out
香港 Hong Kong|2022 | 103 mins | NC16 (内容只宜十六岁及以上 Some Mature Content)
广东话 Cantonese
中英字幕 English & Chinese subtitles
导演 Director: 曾宪宁 Anastasia TSANG
新加坡首映 Singapore Premiere
主演 Cast:

张艾嘉、任达华、蔡思韵、周汉宁、袁富华、麦秋成、郭尔君、唐浩然
Sylvia CHANG, Simon YAM, Cecilia CHOI, Henick CHOU, Ben YUEN, Shing MAK, Alma KWOK, Jacky TONG
简介 Synopsis:

丧偶中年妇美香自丈夫镳叔驾的士期间意外身亡后,陷入自暴自弃的状态,夜夜失眠,拒绝服药;终日携同亡夫骨灰盅到灯光迷离的游戏中心沉迷推银成为了她生活的唯一寄托。某夜,无眠的她习惯性地把镳叔的衣服放进洗衣机洗,望着来回搅动的洗衣槽,就像她内心无尽空虚的漩涡,想不到晾衣服的时候,她从中却意外发现一条"镳记霓虹"锁匙。
她前往锁匙扣上写着的地址察看,惊讶手中钥匙竟打开了一个放满霓虹灯管及烧灯器具的霓虹灯工场,该工场明明早已关掉,但这里的灯管竟然还是烫手的!
Middle-aged widow Mei Heung has gone through countless sleepless nights since the death of her husband, Bill. One day, she finds a key among the items that Bill left behind, leading her to his secret neon workshop and meet the young apprentice, Leo. She learns from Leo that Bill had an unfulfilled last wish: to recreate a demolished legendary neon sign.
With Leo's help, Mei-heung tries to uncover the story behind the sign and learns the craft of blowing neon lights in hopes of fulfilling her deceased husband's last wish with her own hands. As clues of the legendary neon sign gradually emerge, the secrets that Mei-heung couldn't face are about to be revealed.
奖项 Awards:
第59届金马奖最佳女主角
The 59th Golden Horse Awards for Best Leading Actress