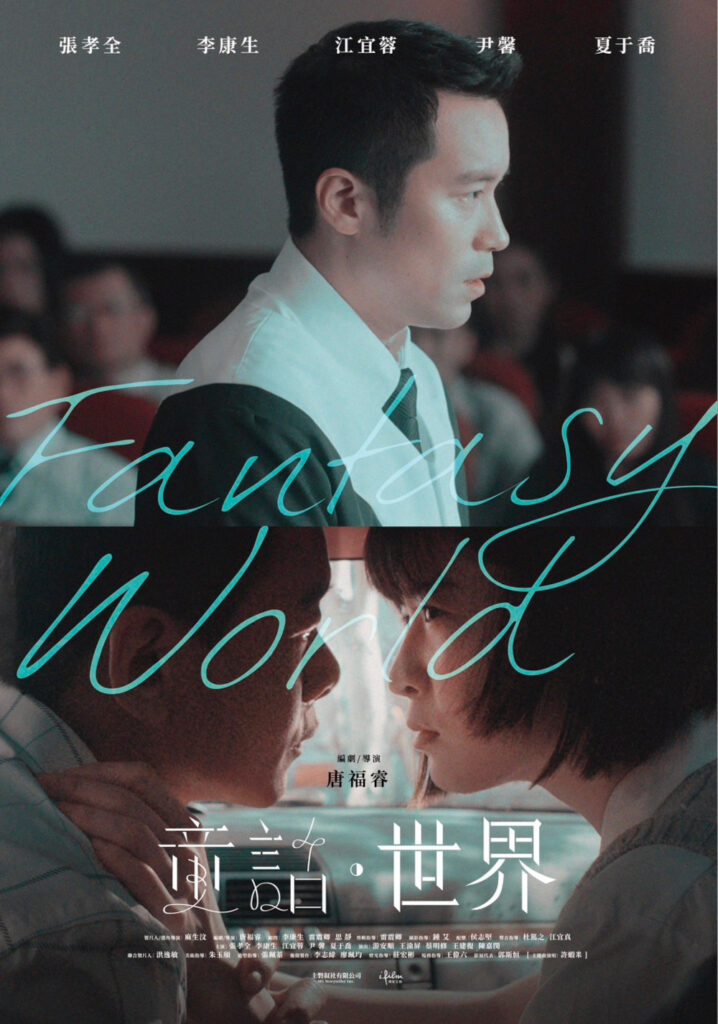 华夏风情画 CHINESE PANORAMA
童话·世界 Fantasy·World
台湾 Taiwan|2022 | 109 mins | R21 (性相关画面及性暴力 Sexual Scene and Sexual Violence)
华语 Mandarin
英文字幕 English subtitles
导演 Director: 唐福睿 Freddy Fu Jui TANG
东南亚首映 Southeast Asian Premiere
主演 Cast:

张孝全、李康生、江宜蓉、尹馨
Joseph CHANG, LEE Kang Sheng, Cammy CHIANG, YIN Shin
简介 Synopsis:
张正煦律师处理一件性侵案时,发现嫌犯竟是十多年前另一件性侵案的客户,补习班名师汤师承。当时张正煦刚出道执业,受雇于资深律师杜子甄,为汤师承辩护脱罪。张正煦虽有疑虑,但为了追求事业表现,仍强迫自己听从杜子甄的教训,渐渐迷失对正义的执着。
最终严重地摧毁被害学生,也失去深爱的女孩。如今,面对恩师与昔日客户,被罪恶感折磨的张正煦,为了弥补过去的错误,并为当年深爱的女孩复仇,决定不计代价追求属于自己的正义。

A cold, hard-nosed lawyer, Zhang, discovers that his past client, Tang, is involved in yet another case of sexual assault. Thirteen years ago, Zhang was a rookie and followed the guidance of his mentor lawyer, Tu. Young and ambitious as Zhang is, he valued the career more than anything.
His outstanding performance in the courtroom successfully helped Tang exonerated from the charge. However, the brutal cross examination completely destroyed the victim and also his beloved girl. After so many years, tormented by guilt and anger, Zhang finally has the opportunity to atone for his mistakes and avenge the girl he loved. Challenged by Tu and Tang, he decides to pursue justice at any cost.
奖项 Awards:
入围第24届台湾电影奖六个奖项
Six nominations at the 24th Taipei Film Awards