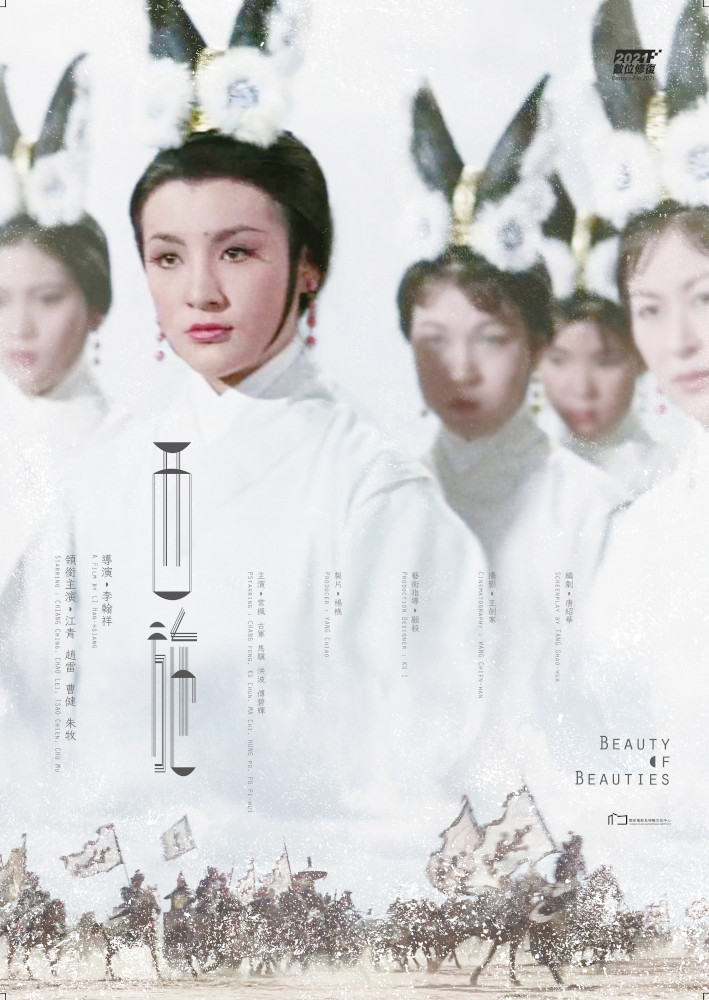 经典修复版: 李翰祥特辑 Restored Classics: Tribute to Li Han-Hsiang
西施 Hsi Shih: Beauty of Beauties
台湾 Taiwan|1965 | 155 mins | PG (些许暴力画面 Some Violence) 
华语 Mandarin
中英字幕 English & Chinese subtitles
导演 Director: 李翰祥 LI Han-Hsiang
国际首映 International Premiere
主演 Cast:
江青、赵雷、曹健、朱牧
CHIANG Ching, CHAO Lei, TSAO Chien, CHU Mu
简介 Synopsis:
改编中国四大美人之一"西施"故事。周敬王年间,吴王夫差伐越,越王勾践战败后沦为吴国臣虏。为懈下夫差心防再伺机复国,越国民女西施受勾践之命,投身吴国,松动夫差心智。夫差对西施宠爱有加,以响屧廊博其一笑,建馆娃宫供其消遣,唯有吴国重臣伍子胥处处提防西施,并数度进言夫差莫荒废朝政;应对伍子胥的质疑,西施则数度以巧计化解。夫差虽对西施用情至深,但当西施一步步令复国大计走上正轨,也是两人必须死别之时。
This film is an adaptation of the stories of Hsi Shih, one of the four great beauties in ancient China. During the reign of King Ching of the Chou dynasty, King Fu-chai of Wu invades the Kingdom of Yue. Having been defeated, King Kou-chien of Yue is captured and becomes a prisoner of war in the Kingdom of Wu. As part of his plan to reclaim his kingdom, King Kou-chien entrusts a Yue woman called Hsi Shih with the mission to corrupt King Fu-chai.
King Fu-chai falls obsessively in love with Hsi Shih and does everything just to put a smile on her face. Wu Tzu-hsu, one of the Wu officials, is the only person who not only is suspicious of Hsi Shih but dares to keep reminding King Fu-chai of not neglecting his responsibilities for the state. As Hsi Shih helps King Kou-chien slowly realise his plan for reclaiming his kingdom, the time for King Fu-chai and Hsi Shih to be parted by death will soon come.
奖项 Awards:
第4届金马奖最佳剧情片、最佳导演、最佳男主角、最佳彩色摄影、最佳彩色美术设计
The 4th Golden Horse Awards for Best Feature Film, Best Director, Best Leading Actor, Best Cinematography (Colour), Best Art Direction (Colour)