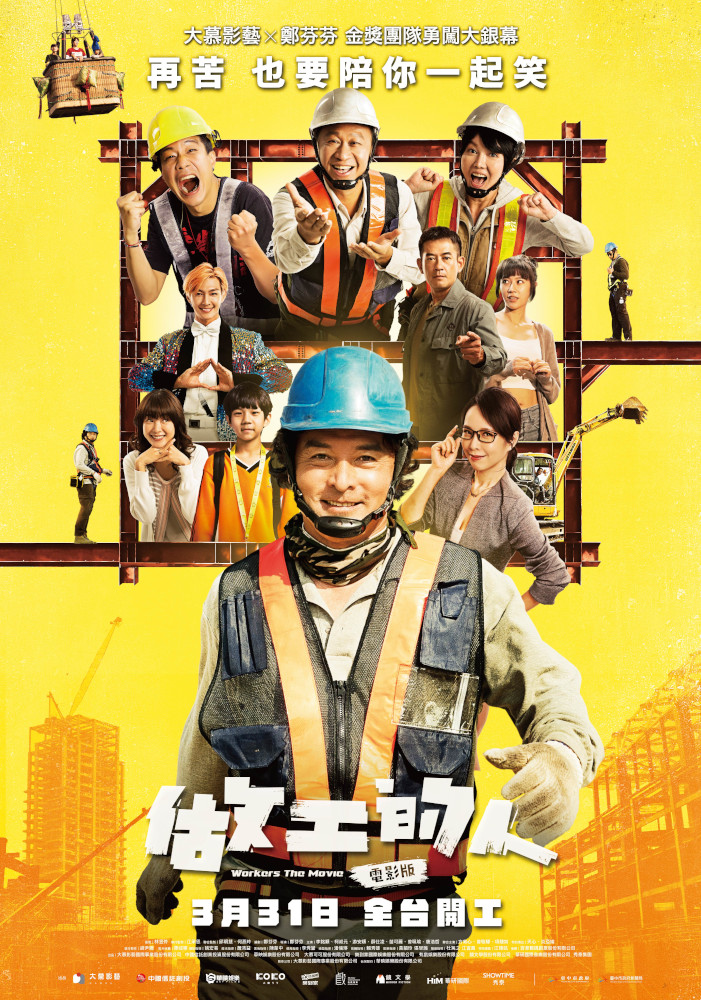 华夏风情画 CHINESE PANORAMA
做工的人 电影版 Workers The Movie
台湾 Taiwan|2023 | 94 mins | NC16 (些许粗俗语言 Some Coarse Language)
福建话、华语 Hokkien, Mandarin
中英字幕 English & Chinese subtitles
导演 Director: 郑芬芬 CHENG Fen Fen
国际首映 International Premiere
主演 Cast:
李铭顺 、薛仕凌、游安顺、柯叔元、苗可丽、曾珮瑜
Christopher LEE, HSUEH Shih Ling, YU An-Shun, KO Shu-Yuan, MIAO Ke-Li, Peggy TSENG
简介 Synopsis:
11年前,在一处大型公共工程中,阿祈和阿钦铁工兄弟档挥汗上工,与一起上工的昌哥、阿全,因为热心又投缘逐渐成为相互关照的好友。三个"噗咙共"各有烦恼,阿祈发现儿子小杰开始和他疏远,阿全因租屋问题变得无家可归,昌哥因为大笔的交通罚单,在阿祈的建议下,寻找律师协助,而爱作梦的阿祈发现凭着他惊人的直觉和运气,如果能上运来哥主持的实境节目《幸运到谁家》似乎能圆个发财梦,于是拉家人报名闯关拼大奖,搏个出头天。这回做工的人认命不认输!爆笑又动人的做工篇章于大银幕上演。
The trio of happy-go-lucky workers wiping sweat and working hard in every corner. Chang is feeling anxiety about large number of traffic tickets, Qi suggests to him to get help from a lawyer. These two workers meet with Quan, who is homeless because of rental problem.
Qi who loves to dream of being wealthy decides to use his astonishing intuition and luck to take part in the reality TV show "Who is the lucky one" in the hope of winning the big prizes so he can help his friends and son to make their dreams come true. No matter how hard life is for these trio workers, they will always laugh with you.
*映后交流(现场)Post-screening Q&A (on-site)