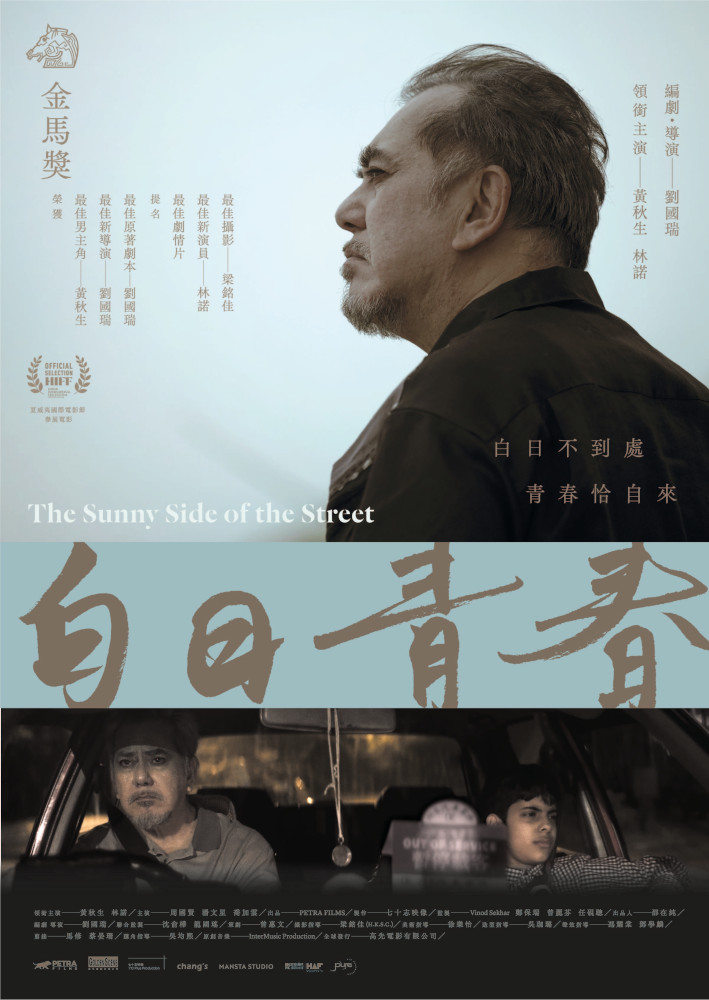 华夏风情画 CHINESE PANORAMA
白日青春 The Sunny Side of the Street
香港 Hong Kong|2022 | 111 mins | NC16 (些许粗俗语言 Some Coarse Language)
广东话、乌尔都语 Cantonese, Urdu
中英字幕 English & Chinese subtitles
导演 Director: 刘国瑞 LAU Kok-rui
新加坡首映 Singapore Premiere
主演 Cast:

黄秋生、林诺
Anthony WONG, Sahal ZAMAN
简介 Synopsis:

哈山是一位巴基斯坦裔的男孩,尽管他在香港出生长大,但他知道自己的未来一定不属于这里。他唯一的梦想就是和家人移民到加拿大,可是一场突如其来的车祸夺走父亲的生命,也让他的梦想破灭。失去了父亲的照顾,哈山只能加入一个由难民所组成的黑帮,却在警方的一次反黑行动中陷入困境。
目睹整个过程的陈白日,决定协助哈山逃亡,并答应帮助他偷渡到台湾。讽刺的是,在公路上追捕他们的警察正是陈白日的儿子陈康。逃亡途中,哈山渐渐开始信任陈白日,两个完全没有血缘且不同种族的人竟建立起有如父子般的情感。
Hassan is a Pakistani kid born and raised in Hong Kong, yet he knows that his future doesn't belong here. His only dream of moving to America is shattered when his father is killed in a car crash. Losing the guidance of a father, Hassan has no choice but to join a mafia organised by refugees.
He gets into trouble during a crackdown by the police. However, Yat who witnesses all this helps Hassan to escape arrest and promises to help him flee to Taiwan. Ironically, the policeman chasing after them on the road is Yat's son, Hong. Yat and Hassan build a special relationship during the journey. After breaking away from Hong's hunting, Hassan starts to build trust in Yat as a father figure.
奖项 Awards:
第59届金马奖最佳新导演、最佳原著剧本、最佳男主角
The 59th Golden Horse Awards for Best New Director, Best Original Screenplay, Best Leading Actor
*映后交流(现场)Post-screening Q&A (on-site)